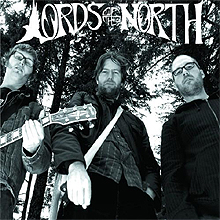 Some call it stoner rock – perhaps due to how the songs give way to occasional low tuned, psychedelic jams; or maybe because the lyrics depict dark winter landscapes filled with rising souls and flying falcons.  Whatever the case, the label doesn't do justice to the heavy, blues driven rock that defines the Lords of the North.
Rising from the dark cold regions of the Pacific Northwest, Lords are bound to make their presence known in Seattle.  The Lords of the North bring a heavy and dark sound that is a refreshing throwback to the early Black Sabbath days.  Likewise, though only a three piece band, Pat Kearney, James Roche and Tony Tharp manage to deliver a powerful performance with the raw authenticity of a Bleach era Nirvana. 
I caught their debut show at the Rendezvous last week, which incidentally, was also their CD release party.  Though I could sense they are just beginning to pull together their game face when it comes to playing live together, they still played a great set and the crowd was amped.  Lords of the North are definite up-and-comers, so check them out while you can still see them in a small venue.  They play Wednesday night (April 2nd) at the Comet and will be live on KEXP from the High Dive in May.  Check out their Myspace site or buy their album online from Amazon (DRM free).
While at their show, I captured a recording with a ZOOM micro-recorder I had stashed in my pocket.  If this was their first official show, the clips below must be the first official bootlegs (disclaimer: since these tracks were recorded from my pocket, I highly suggest that you only use these recordings to supplement the Studio album).  Enjoy.